I closed the doors on my retail dress store in July 2011.  Now that several years have passed, I can finally look back and appreciate the valuable lessons that I learned.  I am now able to focus on the fond memories and laugh at the absurd.  I am ready to share the tales of 2Morrows Dress Boutique… Part 4 – the employees
Part 1, 2 and 3 just in case you missed one
Unless the store is small enough for an owner/operator with limited hours, employees are part of the equation.  My entire staff was selected for great attitude and enthusiasm.  Too bad a few of them lacked common sense.  I caught one employee clipping her nails behind the register.  I understand slipping into the back room to deal with a broken nail, but she was giving herself a full manicure in front of customers!  Another enterprising employee started selling MLM (Avon, Mary Kay, Tupperware) products to guests in my store during her paid shift, well during her last paid shift.  I had to remind a few employees, when working alone, to stay in the store rather than wander around the mall or hide out in the back room.  No matter how well I think I covered certain scenarios, too often an employee was able to find something else that I needed to add to the employee handbook.
Scheduling employees was a constant game of Jenga on quicksand.  Most of my employees were part-time students.  Trying to find the right blend of hours per week, juggling school schedules and high-traffic coverage was critical to keep the store from falling apart while retaining my staff.  Manicure girl actually had her Mother call me to demand "better" work hours.  I was not surprised when I caught her searching for jobs on-line during her shift.  Turns out, she could get those better hours somewhere else, not working for me.   One fickle employee asked for more hours, then within a week asked for reduced hours because those additional hours were too much, then quit a week later and filed for unemployment benefits.  Another employee of mere weeks quit on zero notice for a better job with better hours, then begged for her job back a couple days later when the hours really were not better.  I let her jilted co-workers have the final say in her fate, and they agreed with me that she would not be welcomed back to the team.
Through all the employee turnover and silly drama, there was a core group of Superstars!  These employees were the heart of the store and kept me from a complete mental breakdown.  Great staff that always went the extra mile for customers, took pride in the store, and was eager for more.  I was happy to expand their responsibilities into scheduling, product selection, hiring, and management duties.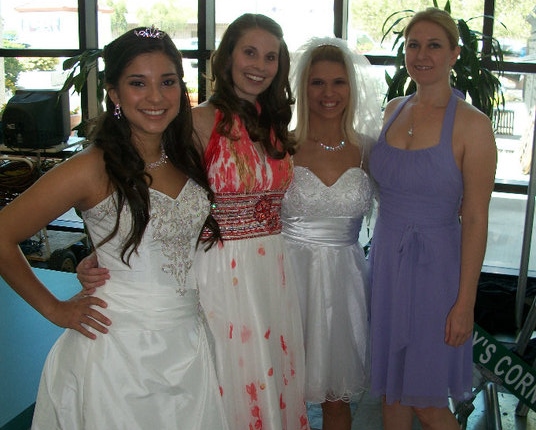 When presented with an opportunity to showcase a few gowns on a local TV show, three of my superstars eagerly volunteered.  We trekked across town in morning traffic, providing full hair & make-up applications for each other, and spent a fun morning promoting the store on live television.  All the while, a lone (superstar) employee ran the store, because someone trustworthy had to.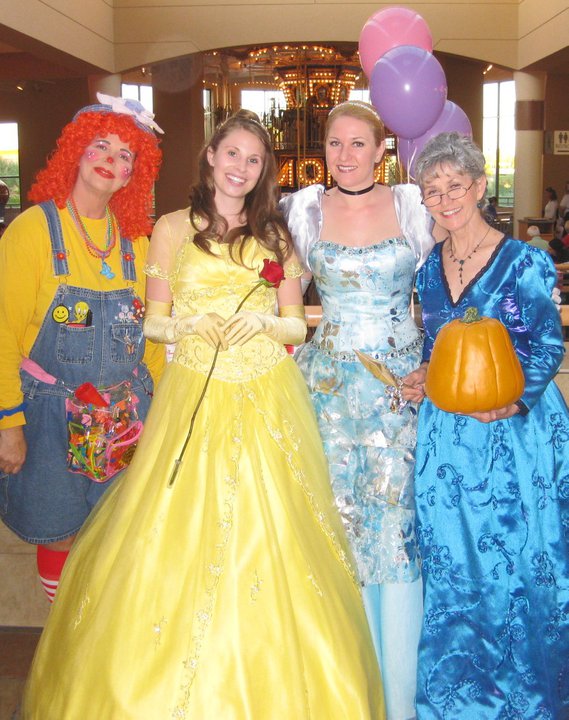 The mall hosted a couple Princess themed evenings.  A few of my staff dressed up for these events representing the store with pride. Despite an injured foot in walking boot for one event, Belle was still represented from my staff.  She had a perfect smile the entire evening handing out red roses and posing for pictures, while keeping the boot hidden under the large yellow ball gown.
These superstars dazzled during the Prom season rush and still maintained a great attitude when the  mall policy dictated ridiculous o'clock opening for Black Friday.
When I announced that I was closing the store, once again these superstars demonstrated class and positive attitudes.  They needed to find new jobs, but they worked it out to provide full coverage until the last hour of the last day – they stayed with me until the end. Over and over, they proved loyalty to me and each other.
I still keep in touch with my favorite employees.  I am proud to watch them growing into responsible, extraordinary women. They were pretty great when I hired them, and I hope that the experience contributed to how amazing they are today.