Wedding gowns can be expensive. Add a well-known designer's name or label as Couture, and these wedding gowns reach a whole new level of expensive. I had no idea what to expect with these high-end Wedding Gowns. I tried on dresses that cost more than my first THREE cars, combined! Sure, I felt pretty. Anyone would feel pretty in those gowns. I just could not justify the price! What was I really getting for a 5-digit price tag? I went to a few more "affordable" designer studios to try on dresses (some styles under $10,000 – what a bargain).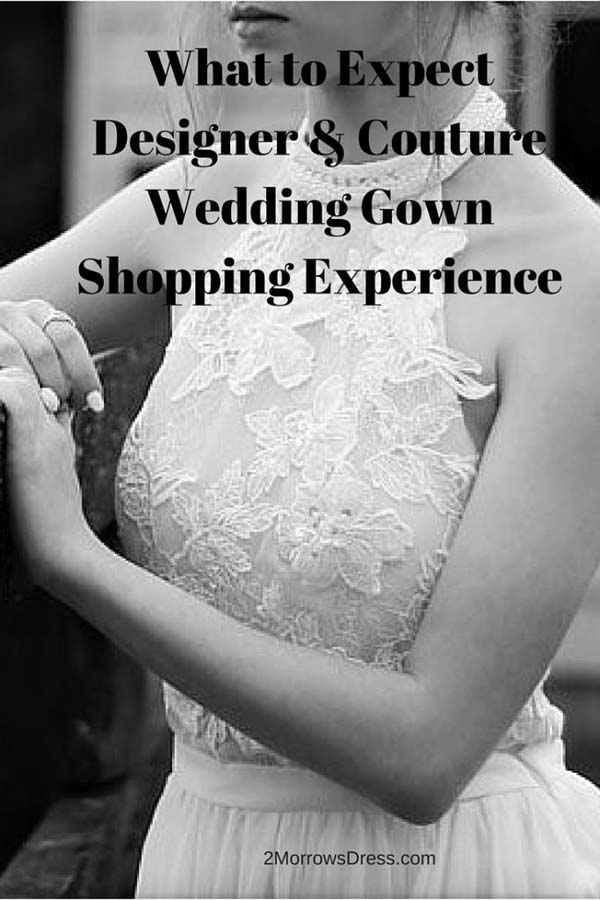 What to expect for an appointment:
One or more attendants are assigned to you during your appointment. When reserving the appointment time, the bridal studio will ask for your dress size, wedding date, planned location, and preferences. This allows the store to set expectations ahead of time for cost and ordering lead times, as well as prepare for your arrival. Dresses are selected for you and brought to you in an oversized dressing room. Attendant(s) will assist with lacing, zipping, pinning, anything to get the dress on you. There may only be one sample size (or two) of the specific style of the dress. They will try very hard to "fit" the dress to you, but it may still involve plenty of imagination. The attendants will have perfect matching shoes for you, variety of veils and head pieces, and will ohh and ahh over you.
Reality versus Say Yes to the Dress Expectation
You may only have an hour or two in your appointment with the assigned attendant and dresses, and it takes a while to get into each dress.
You may be pinned in the back so the way too big or too small (sample) dress does not fall off your body.
Most of these high-end bridal studios know that if you want that particular designer and style dress, you will cooperate with the store (or try another one of the designer's studios farther away to get your "dream dress").
These insanely expensive dresses are not made that much better than the far less expense designs. Pay attention to the quality of the fabric and embellishments (lace, beading, or intricate buttons).
No one can see the designers tag while you are wearing the dress. Unless you tell people, no one will know "who" you are wearing.
If you can afford it, and it is important to you, then buy what you like.
After trying on the samples for a dress that I could order and hope that it looks good on me, I decided to pass on the insanely expensive gowns. My custom made gown was a fraction of the cost and was exactly what I wanted!
Thinking about Resale Value?
Do not purchase one of these gowns thinking that you can turn around and resale it for the same price. Most resale dresses only retain a fraction of the original retail price and may take months to sell. This is not an investment, it is an article of clothing that is worn once. Decide if the price tag is worth it to you, and if you can sell it later that is a bonus!
Would you spend that kind of money of your Wedding Dress?
Here are some helpful tips to Sell your Wedding Gown.