Women come in all shapes and sizes, pear, apple, curvy, tall, but most of us do not resemble a muffin. So how did we get the muffin top?
Muffin Tops are created by a garment too tight around the waist pushing the skin (and maybe a bit of pudge) up and over the waist band. On Men this is comically described as a middle tire, or dunlap disease, where the gut dun lapped over the waist. Haha, yes very amusing. The "cure" is the same for middle tires and muffin tops.
Here are the 3 most common problems, and solutions to avoid the muffin top!
#1 Too Small
Problem Number 1:  The garment is too small.
The garment waist is smaller than your waist, everything is just too tight!  
Solution: Wear a larger size.
# 2 Too Low
Problem #2: The garment waist is too low on your body.
While technically the correct size, the garment squishes at a weird spot below the smallest part of your waist, resulting in that horrible muffin top.
Going up to the next larger size results in the garment looking baggy or falling off, but not eliminating the muffin top.  Low rise jeans and pants are notorious for bad fit on tall or long torso women.  
Solution:  Skip the low rise and select a higher waist garment for your body.
Problem # 3 Too High Waisted
Problem:  Muffin top below the waist band.  
This is almost upside down muffin top, where the cinch of the waist is a combination of too tight and too high above your natural waist. While an Empire waist is usually a flattering style on most body types, it still needs to be the correct size and often features a billowy, loose fitting skirt to avoid any pastry-look.
While this rarely happens, it is caused by the outside garment (pants, skirt) waist is too high and is squishing above the waist, usually for petite or short-waist women.
Solution:  Try a lower rise closer to your natural waist.
Here are some simple steps to look leaner and slimmer through good wardrobe choices, and eliminate that Muffin Top once and for all!
Every layer of clothing should fit properly. Control top panty hose, shapewear, and underwear all need to be the correct size! If any of the undergarments are too small or poor placement at the waist, then you are setting yourself up for possible muffin top.
Curvy women look best in garments that fit close at the narrowest part of the waist. This accentuates the hour glass shape, and nothing resembling a pastry.
Straight or slim figures are less likely for muffin top due to high or low waist, and can benefit for a bit of stretch at the waist.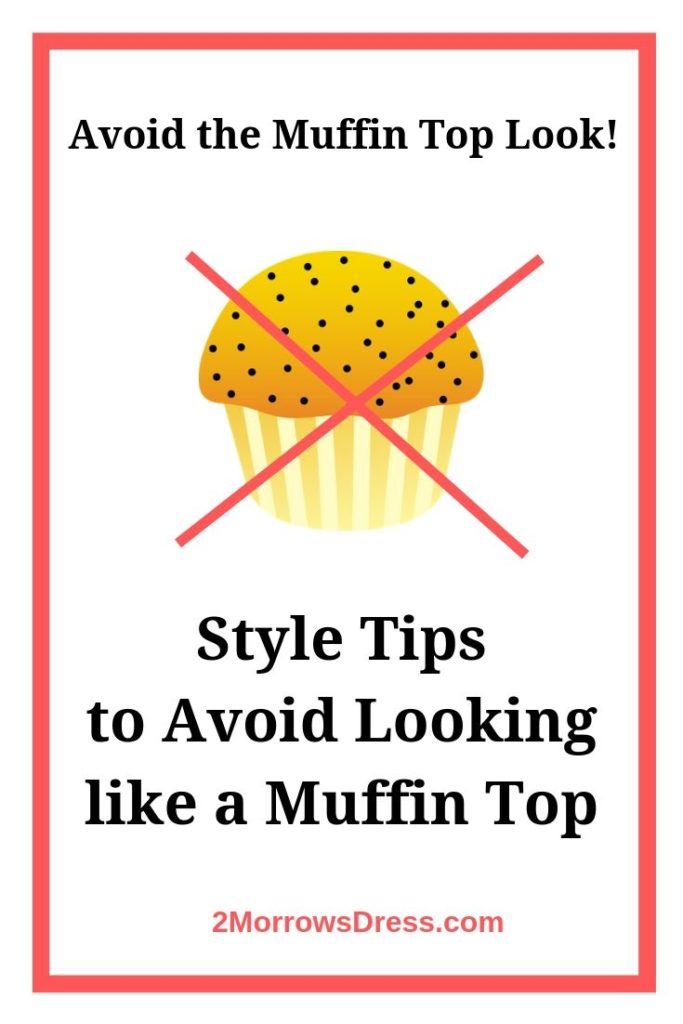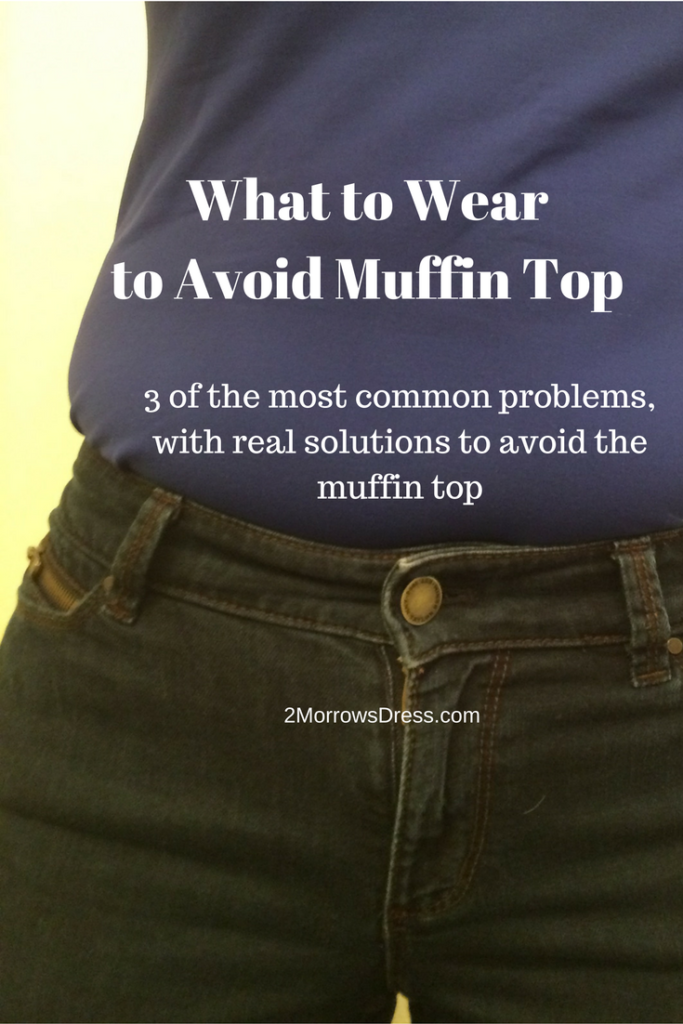 Bonus tip: Avoid pleats around the fitted hip, especially with high waist pants, since the result is the "Mom Jeans" look.
Not sure what the correct size is for your waist? Here is a quick chart of waist measurements and corresponding sizes.
Want more? Here are 5 great tips to avoid or reduce Back Bulge!