What do you do with those unwanted clothes from your closet? You can sell or donate them, or host a Clothing Swap Party!
What is a Clothing Swap Party?
A clothing swap is an organized event to barter and trade clothing between the participants. These clothing swap events are a great social event as well as eco-friendly option for sustainable fashion. Add variety to your wardrobe by trading unwanted items from your closet for new (to you) items!
Theme Swaps
Pick a Theme! Use your imagination of what your friends may have in their closet to get rid of. For seasonal activities or events, be sure to plan your theme swap ahead of time.
Women's Clothes by Season (Spring/Summer or Fall/Winter)
Hobby Clothing, like LARP or Renaissance Festival Clothing & Accessories
Maternity wear
Baby clothes swap (infant to 2T)
Kids clothing
Costume Jewelry / Junk Jewelry
Halloween Costumes (beginning of October is perfect timing)
Formal, Cocktail, or Party Dresses – swap those homecoming, prom, and bridesmaid dresses
Swaps are not limited to just clothes! Your theme could be accessories like shoes, handbags, or coats. If your squad is particularly crafty, swap craft supplies including damaged (ripped, stained) clothes for fabric projects.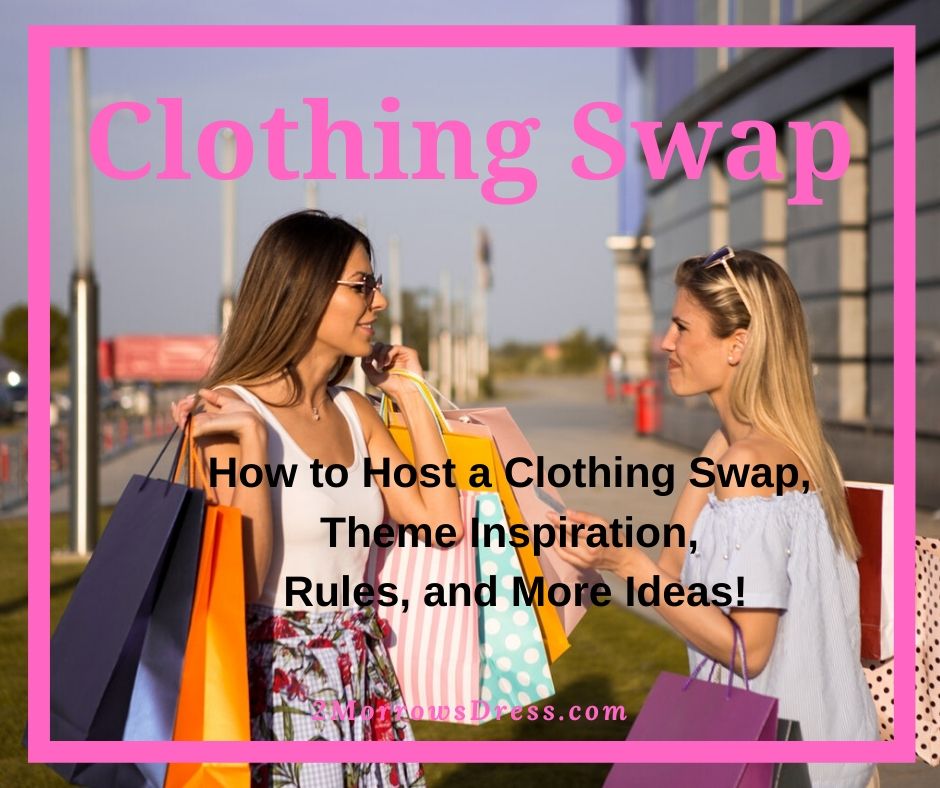 Hosting a Clothing Swap
Now that you have your theme, invite the friends most interested in that theme. Decide if you are including friends of friends, and how many people you are comfortable hosting.
Will your swap include children? Make sure that you have a kids area for playtime. Or give everyone plenty of time to arrange for babysitters.
Serve snacks and beverages to compliment the theme. Cupcakes and sparkling wine go great with a Friday night party dress swap! Get creative to promote the social aspect of the swap.
Have a few folding tables and hanging racks to display clothes.
Set up a couple mirrors for try-ons.
Buy or Barter Only?
Will you allow participants to Buy items, or limit to just Barter? Certain themes may have higher priced items where it makes sense to allow purchases. Decide ahead of time and let participants know. Encourage guests to bring small denominations for any purchases.
I co-hosted a Renaissance Fair Clothing swap for my Ren Faire Friends. Most participants brought clothes and accessories that they no longer wanted and were willing to barter for new items, some participants attended specifically to acquire new items and did not have anything to trade. Rules were set for a maximum price threshold and communicated ahead of time. This particular party is a good example of buy and barter clothing swap.
Specialty clothing, designer handbags, and party dresses are all good candidates for Buy or Barter parties.
Rules and Etiquette
Clearly communicate the swap theme early to give participants time to gather their items.
All Items should be Clean and pressed
BYOB – Bring Your Own shopping Bag and hangers
No broken, ripped, or stained items (unless the theme is specifically upcycling or crafting)
Determine and communicate if there is a minimum or maximum limit of items to bring?
All participants agree to be civil and have fun – no fighting!
Agree if any leftover items will be donated or back to original owner?
Barter Only Clothing Swap Rules
Free For All
Have each participant display their swap items, then each guest "shops" the event inventory. There is no set limit of items to swap, or any guides for one to one swaps.
Free for all system is good for experienced swap-participants, especially for children's clothing or maternity wear.
Token or Point System
Issue tokens or points based on the number of items each guest brings to the swap. This will guide a one to one swap, meaning that ideally each guest will leave with the same number of items.
While this is usually the most "fair" swap, not everyone will find items they really want so be ready to allow your participants some freedom for more or less than what they brought to swap.
One at a Time
One at a time, each person gets to pick one item as you go around the room. After everyone has picked one item, start over. Repeat picking one item at a time until all items are selected.
Combination Swap
You can always start with the One at a Time swap for a couple rounds, then open the swap as a free for all for the remaining clothes.
This is your party, and your guests – so pick the (buy or) barter system that works best for your clothing swap.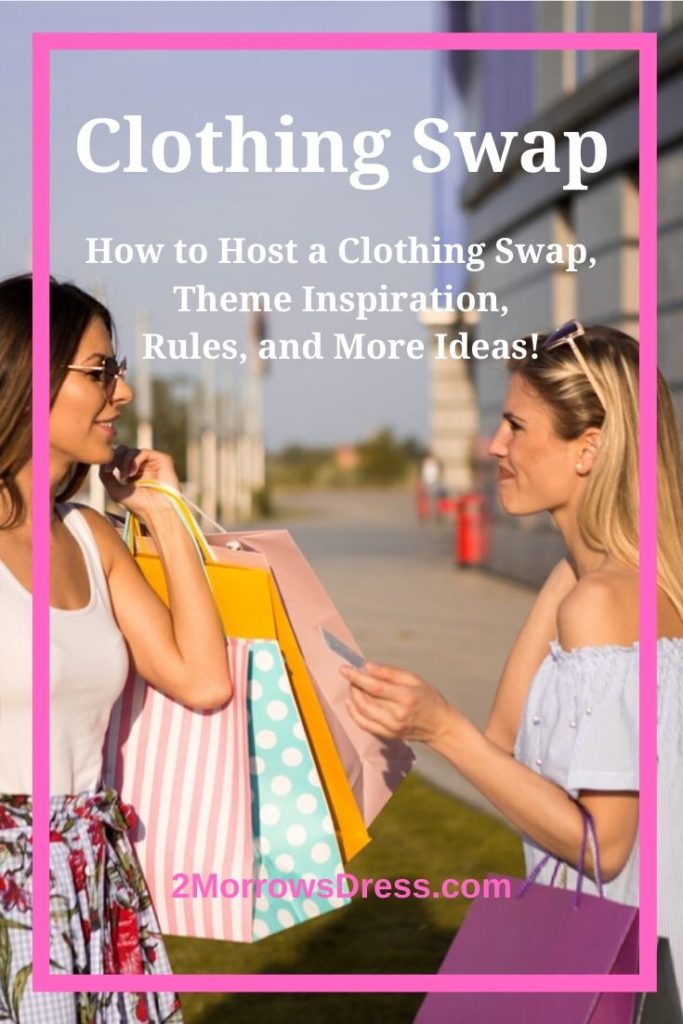 Take turns hosting (and co-hosting) swaps year round for fun and inexpensive events that give you greater wardrobe flexibility, saving money, and reducing fashion waste!