One of my favorite customers recently contacted me for Prom shopping suggestions. Her daughter is a petite blonde, short waist, with an amble chest. I have been involved in her formal dresses for Military Ball, Junior Prom, and Homecoming. This year she is a Senior, and I am flattered (and quite pleasantly surprised) for Mom to ask for my advice. The last time I saw her was 6 months ago, so I assume she is about the same size, but I would take a current measurement of her before purchasing any dress. Due to her bust size, she is right on the edge of a size 12 or 14 (depending on the cut). She has a tiny waist and plus size fashions typically are cut way too large for her waist. 
There is very little selection for formal wear near their home.  And there is substantially less selection for formal wear in metro-Phoenix / East Valley since I closed my store.  I start my search on-line with a few eBay stores and trusted dress websites.  Remember to read all of the fine print, double & triple check your measurements against the size chart before placing any orders.
Last year she wore a beautiful strapless hot pink princess gown by Lara from my store. So this year I am keeping my eye out for blues, other colors she has not worn, and slightly different, yet flattering styles. Due to her body shape, we will avoid mermaid styles, drop waist, low back (she needs all the chest support she can get), anything too overwhelming for ruffles and fabric, and most-of-all anything that does not provide sufficient coverage on top.
The first selection is an Orange multi-colored satin print by Studio 17 on eBay. The top should provide sufficient coverage, and the empire waist band is perfect for her torso length. I know this dress will need a hem, but our blonde beauty would look fantastic in this gown!
Plus size fashions tend to run tall as well, which has proven to be a nightmare in the past. I do like this satin gown by Night Moves in the deep blue/purple. The neck stra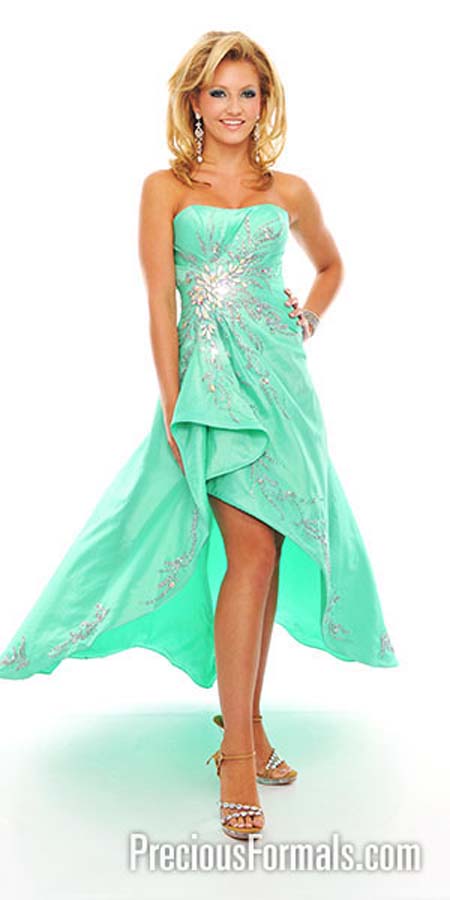 p will likely be too long, but will provide extra support while she is dancing and running around. The gown will be too long and require a hem.
To avoid tailoring the hem, this high-lo style from Precious Formals is perfect. The side waist detail will draw attention away from her bust and showcase her tiny waist.
Honestly, the only thing I really miss about my store is being able to match spectacular gowns with gorgeous girls!