Due to health issues and corresponding medications, my friend V gained weight, then with better treatment, diet & exercise she has lost a whopping 50 pounds in the last year!  
All of this weight gain, and now dramatic weight loss has proven to be disastrous for her wardrobe! While her weight loss continues she is not ready to shell out serious cash for clothes. Many outfits only fit for a month or two, so this is getting expensive. Today we set out to find some new clothes on a budget. Armed with a 20% off coupon, a keen eye, and some savvy shopping we left with 2 new dresses, 2 pairs of shorts, 3 pair of underwear, 1 cute top, and 1 pair of jeans for less than $200!!!
Shopping Tips
Try different styles to find a flattering fit for your new body type
The first challenge is breaking old habits. When your lose (or gain) weight, your body shape usually changes as well. Your weight can stay exactly the same as far as the scale is concerned,but the distribution is different. Styles that previously looked good, may no longer be the most flattering for your current shape. V picked up a pair of pants, in her new smaller size, that are the exact same style as something she wore 4 sizes ago. Since her shape changed, the pockets stuck out and the fit was just horrible.
Try different sizes
Now that we know those are not working, our next challenge is finding something that flatters in the correct size. And this is a challenge! Again, because of body shape, the size 10 may fit but not look very good, while a different cut size 6 also fits and looks bad in a different way.
Bring at least two sizes of the same garment into the fitting room. Ignore the size label and focus on the fit. Look it the position of the seams for shoulders and hips to determine the best fit.
V is taller than average with a long torso, meaning that her legs are "normal" height and her body from neck to waist is taller than normal. The good news is that finding the right length pants is easy. After only a little trial & error, we found a pair of Levi's 525 straight leg jeans that looked great! The slight high-rise waist covers a long torso and prevents "muffin top". The straight leg is not too clingy nor too baggy.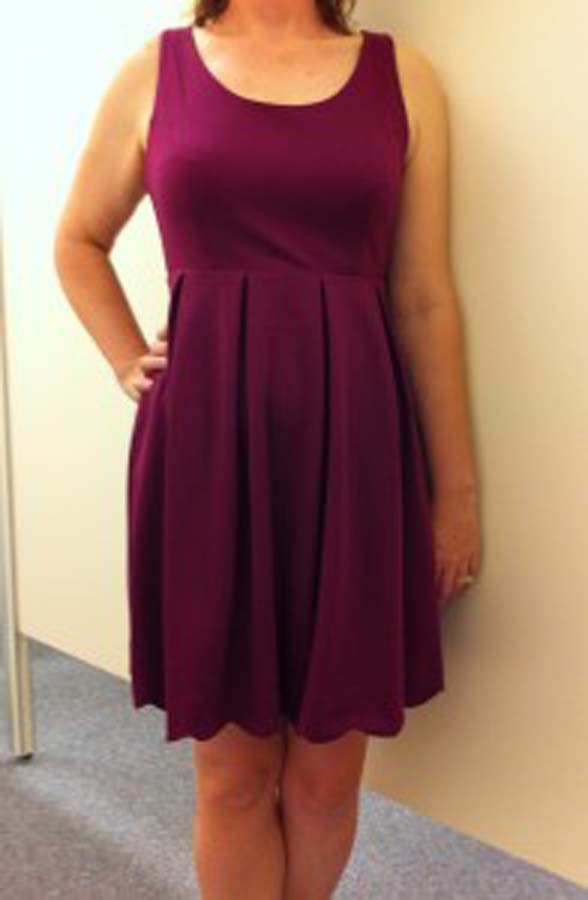 She tried this purple dress with flared skirt, which just looked too short and a bit juvenile. Since V has a long torso, the waist seam of the dress was several inches too short for her.
This flared skirt only accentuates her hips, and since the waist seam is too high it makes her waist look larger than it really is several inches lower.  Not happy with this purple dress, we kept searching.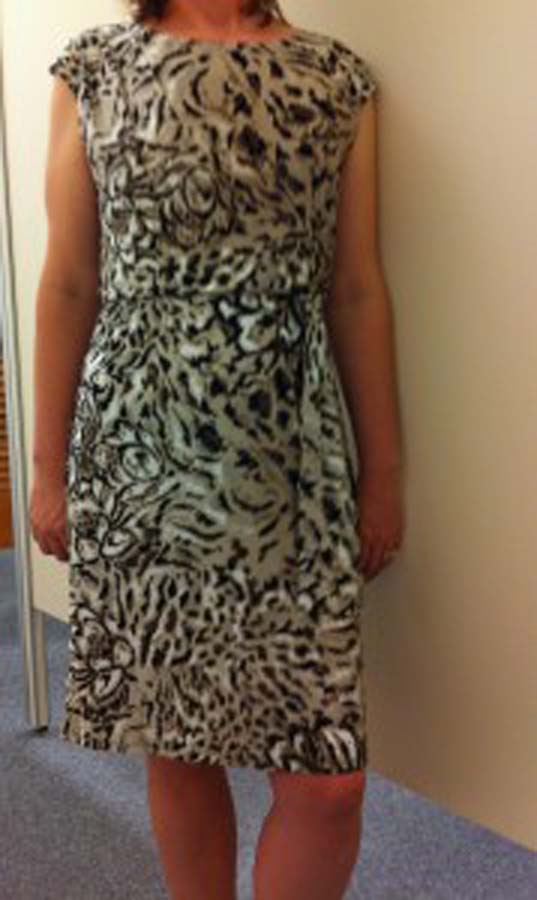 This animal print dress has an elastic waist to really show off how small V's waist is. There is a little sash from waist past hips that draws the eye down to her legs. I love the conservative neckline and cute little cap sleeves. V can wear this to work with a little sweater or jacket in cold weather, or just a cute pair of sandals in the summer. Best of all, the elastic in the waist will adjust with her weight.
Experiment with different styles, prints, materials, and designers
Colors that were "too bold" before, may be exactly what your wardrobe needs! Try on different necklines, hem length, and break out of your old comfort zone to find your new style.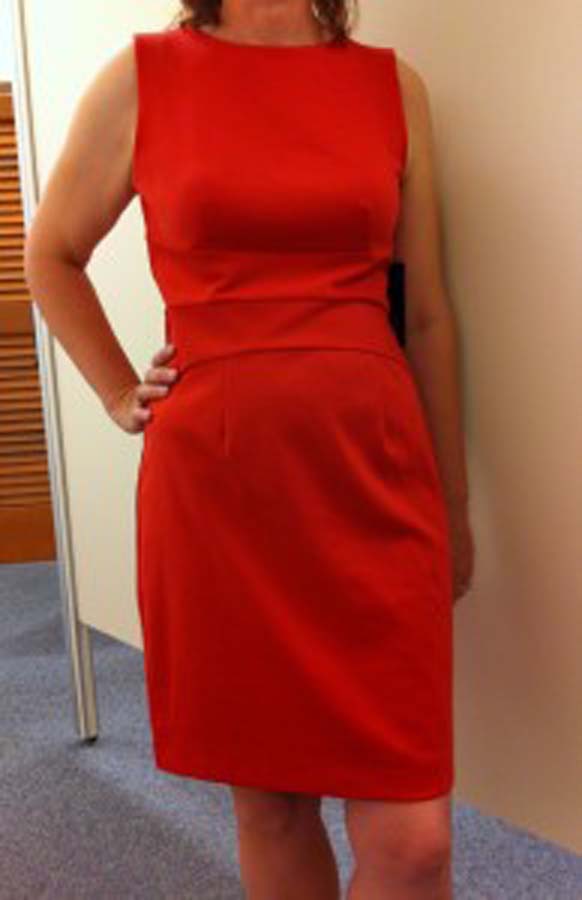 My favorite piece from our shopping trip is this fabulous coral ponte knit zip back dress. The banded waist band is so flattering, and perfect to show off V's slender waist and sexy legs! Paired with a tan or khaki single button blazer jacket gives this dress a sophisticated look for work. A slim snake skin belt and matching shoes would be a funky look for casual wedding or date night out.