Your Cruise is booked, now it is time to pick out what to wear and what you need to pack. Here is the ultimate cruise vacation packing checklist for clothes, accessories, toiletries, medications, documents, and more from a Pro!
Theresa is an avid cruiser and traveler, as well as an agent with Royal Treatment Travel where she specializes in Disney destinations, cruises, honeymoons, all-inclusive resorts, and more! Theresa shares her top packing advice for your cruise vacation.
Pack Light – Don't Over Pack!
One of the things I have learned over time when cruising is you should be cautious of over packing. The standard room size is between 120 sq feet to 250 sq feet depending on your room type. Most cruise companies are creative with the space they give you for luggage and clothing. However, it's still advisable to pack light.
Since most cruising is done to tropical destinations, you can expect to wear lighter clothing. I do advise bringing a pair of long pants along with a cardigan or a sweatshirt. The cruise ship can be very cold with the AC blasting. It also gets cooler at night on the high seas.
Most cruise lines have at least one (optional) formal night, so you'll need nicer attire for that dinner. Otherwise, pack a few pairs of shorts, some tops, a cover up, flip flops, sneakers and a few swimsuits. Having multiple swimsuits is nice, one is always dry and ready to be put on.
Shore Excursions and Planned Activities
Planning your land excursions in advance will allow you to pack strategically to avoid over packing, or not being prepared for your activity. Shopping on board the ship will have limited options and can be expensive.
Certain shore excursions and activities will require additional items to pack, or substitute to reduce over packing.
For example, you may switch to specialized water trail shoes for waterfall hiking excursion and leave the regular gym shoes/sneakers at home.
Long sleeve rash guards are excellent sun protection for snorkeling, and must-haves for fair skinned swimmers.
Are you planning to hit the gym? Remember to pack a sports bra and gym clothes.
Sturdy travel pants can be worn during air travel, horseback riding, or hiking.
One pair of pants that can be worn for three different activities (avoid the urge to over pack and bring three pairs of pants when one will work).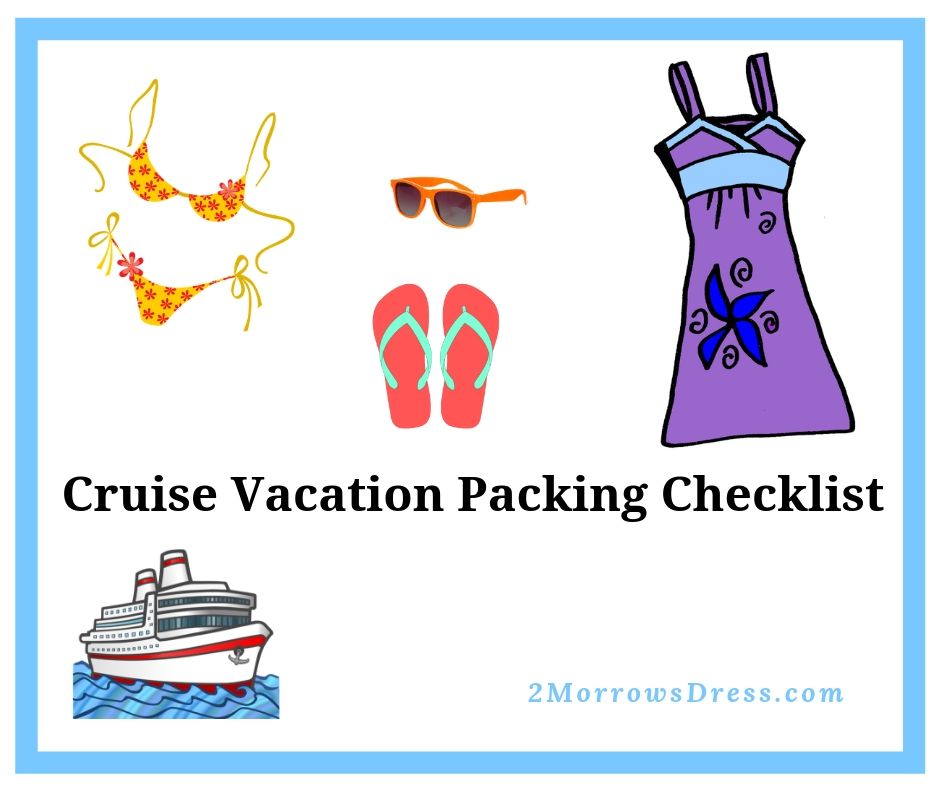 Cruise Clothing Checklist
Swimsuits – bring 2 or 3+
Swim Shirts – 1 or 2
Cover Ups – bring 2 or 3 to ensure that one is always dry
Sun Dresses – bring 1 or 2 sun dresses for port days or smart casual dining at sea
Shorts / Pants – 2 pairs of shorts plus 1-2 pairs of pants, adjust as necessary depending on cruise destination and length of cruise
T-shirts / Tops – bring 3-5 shirts for a 7 day cruise, if you need more this is a great opportunity to buy that cool souvenir tee shirt
Pajamas or short, light robe – In case of emergency, or just for lounging on your not-so-private balcony. At port and even at sea, other cruise ship passengers will be able to see into your balcony or terrace.
Sneakers – Hiking boots or gym shoes depending on your planned activities
Water Shoes / Swim Shoes
Flip Flops
Sunglasses
Hat – be sure to pack an adjustable sun hat (it will be windy), baseball hat, or visor for extra sun protection
Warm Clothes (AC on boat and air travel) – bring a long sleeve pullover, hoodie, or zip up fleece
When planning out what to wear on your cruise ship consider how well certain garments pack to avoid wrinkles and light weight, natural fiber fabrics to stay cool. Roll your tee shirts and sun dresses to prevent wrinkles and more compact packing.
Here is a more detailed packing list just for beach travel.
Toiletries Checklist
Shampoo & Conditioner
Body Wash / Face Cleansing wipes or wash
Toothpaste / Toothbrush
Makeup
Hair Brush
Hair Products
Sunblock
Medications Checklist
Prescriptions – in prescription bottle with Rx information
Allergy Pills
Headache Medicine
Cough Drops
Sea Sickness Prevention/ Treatment: Dramamine / Sea Sick Patches / Motion Relief Bands
Nyquil and Dayquil
Documents Checklist
Travel Docs
Passports / Photo IDs
Birth Certificate (for closed loop Caribbean of not bringing a passport)
Travel Insurance Docs (if purchased)
The most important documents to have are your passport or birth certificate, photo ID, and other travel docs from the cruise line. Note that most closed loop Caribbean cruises will not require a passport, but it is strongly recommended. Be sure to check and see what the required documentation is for your trip.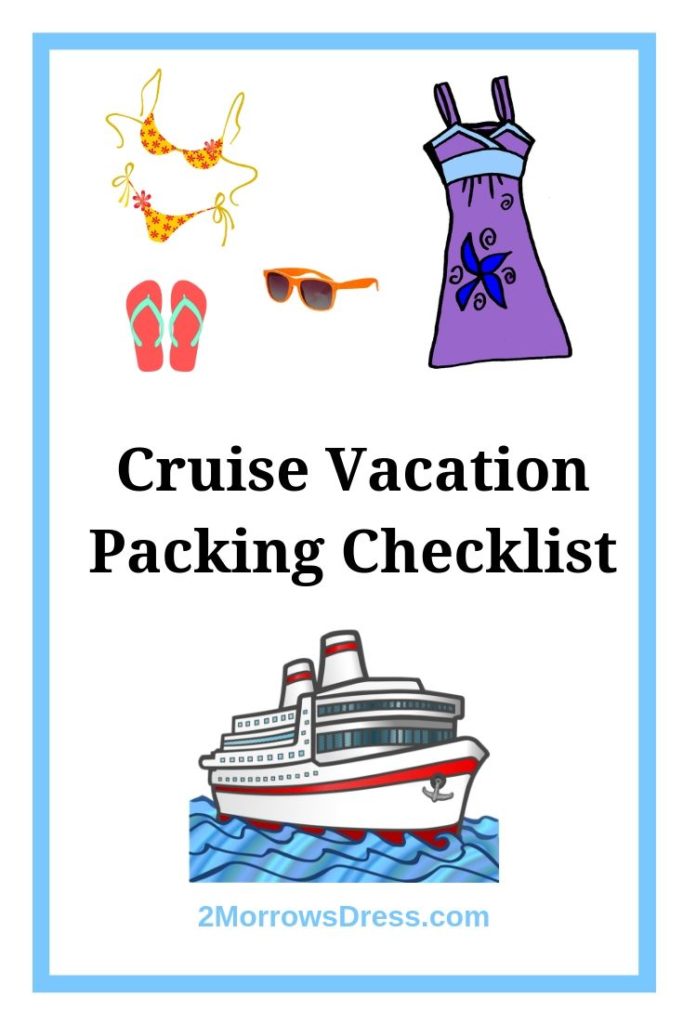 Miscellaneous Helpful Items
Towel Clips for beach chairs to keep your towel in place
Cash – if USD is accepted off the ship, otherwise you may need to exchange for local currency on board the ship or at a local ATM (verify acceptance and fees before you withdraw cash).
Credit Card – Call ahead to tell them you're traveling and foreign countries that you will be visiting. Check fees before you use your card.
Lanyard to hold Keycard
Luggage Tags that are water resistant
What are your must have items on the Cruise Ship?
Leave a comment below with anything we may have missed!