Fall gets shorter and shorter each year. To maximize my wardrobe, I tend to split my closet into three sections.
Year round clothes that are the foundation for my wardrobe
Spring/Summer
Fall/Winter
I treat my Fall/Winter only clothes as a "capsule wardrobe" that can be mixed & matched for maximum outfits using as few clothes/shoes as possible. When adding any new fall/winter clothes, I always consider how well they match my current shoes, accessories, and other garments. This mindset will help you avoid buying that one item that doesn't match anything in your closet (thinking of you weird shade of green sweater that I never wore).
Due to the bulk and amount of space my fall/winter clothes occupy, I use separate storage bins for bulky sweaters, thick fleece, and other cold weather only clothes. Make sure boots and winter shoes are completely dry and stored with desiccant packets to absorb extra humidity and avoid mold or mildew ruining your shoes.
Pro Tip: Get the air tight storage bins to go under your bed or top of your closet, wherever these can be stored out of your way.
Core Career Pieces
Matching suit jacket, skirt, and dress pants is a mix and match staple for me. The solid black suit goes with everything, and is a core set to build a winter capsule wardrobe around. A good suit may also be worn year round, but for extreme climates, it is worth having a heavier fabric suit for fall/winter with a lighter weight fabric (color, style) suit for spring/summer.
My current winter suit jacket is a sturdy wool, slightly cropped and fully lined with extra button detail on the sleeves. I am currently in a less conservative work environment, and opted for the matching suit skirt that is above the knee with a side slit. A longer pencil skirt with back slit or vent may be a better option for more conservative environments, and the extra few inches of skirt will keep you a bit warmer.
Black suit skirt with side slit

Cropped black suit jacket
These suit pieces can be worn together or in multiple outfit combinations. Thermal tights or the matching black suit pants are other options for warmth. Sheath dresses (solid or print) also make up my core career pieces, worn with suit jacket or sweaters and switch up shoes for variety.
Simple pin stripe, faint plaid, and other subtle patterns or texture are great options to add a little extra to your basic black suit. Feeling more daring? Charcoal, navy, and other dark neutrals are great alternatives to basic black, just be sure to check how well they will match with your existing winter clothes, before a big purchase of a new suit.
Whatever your career attire, invest in a few high-quality pieces (pants, skirt, jacket) that fit. Unless these are custom made, or you found the perfect fit off the rack, consider taking them to a tailor for alterations. Nipping in the waist, (lowering or) raising the hem slightly, and other small adjustments will make a HUGE difference for that polished, professional look. And when these core pieces fit perfectly, you will look and feel like a million bucks! These are the pieces that should be a winter wardrobe staple season after season.
Faux Fur Vest
I bought this reversible faux fur silk vest over 10 years ago, and it is one of my favorite layering pieces. This vest is always in style! The fur side is extra warm, and I love how the silk side can be worn for a dressier look. This year I am wearing it fur side out most of the time, but I love having the option to switch up my look.
Vest fur side out with black suit pants
Silhouette Flattering Jeans
Bulky sweaters and layer upon layer of tops, vests, and coats will leave you looking frumpy without a form fitting element. Great fitting jeans should be a part of your everyday wardrobe! Now is the best time to add silhouette flattering jeans to your wardrobe, if this is missing from your closet.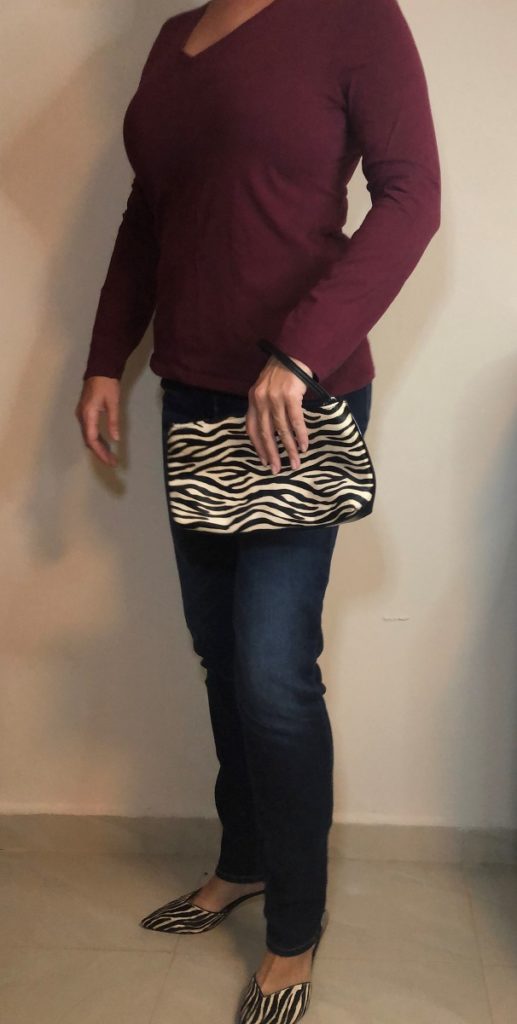 Add the suit jacket with jeans for a no-nonsense business casual look.
All That Glitters
I love glittery gold dresses for cocktail parties and holiday events. I have big plans to wear this razor back, little gold dress for New Year's Eve. It will likely make an appearance at a couple more holiday cocktail parties (different crowds, it will only be a repeat for me) this season.
After the holidays, I will pair it will chunky sweaters to add a bit of sparkle during the week. This type of dress is always easy for me to find other occasions and outfit combinations to wear on maximum repeat without getting bored.
Show Off Your Wild Side
I bought these zebra print mules and matching bag at the end of summer and have worn them throughout fall. Paired with a simple black dress, jean & tee shirt, red dress, and a slew of other combinations this shoe & bag combo is a great additional for this season.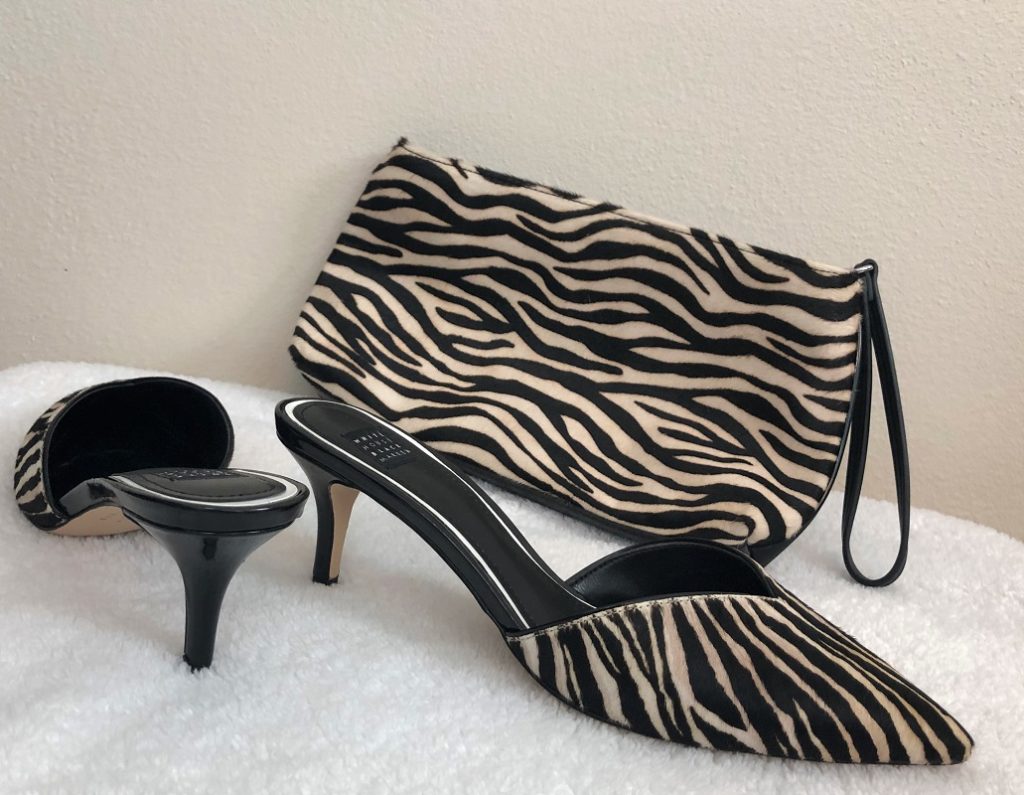 I found this 1960's vintage leopard print swing coat at an estate sale many years ago. If you love vintage, it is absolutely worth a spurge for a statement piece like this coat. It fits my personality and I always have matching outfits.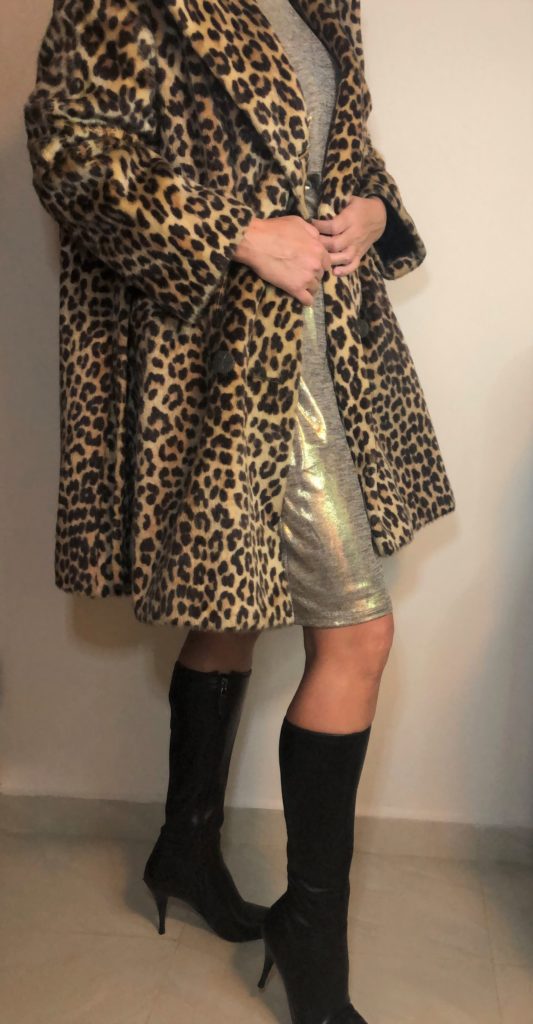 Maybe your style is more leather moto-jacket, or fuzzy hood puffer coat, whatever you style add a bit of flair to your outerwear. Do not be afraid to add unique statement pieces to your wardrobe. Accessories and outerwear may be the easiest to show off the wild side and take a fashion risk!
Layer after Layer
Long sleeve tee shirts, blouses, sweaters and knit tops are critical for winter layers to stay warm. Often these aren't even seen under all your layers, so these shirts can be prints, solids, and more.
I prefer close fitting tops for my inner layers, especially under bulky sweaters. My year round tee shirts, tops, and leggings supplement my winter layers to stay warm.
Remember the slipdress trend from the late 90's? Do you still have one of these iconic spaghetti strap silky dress with lace trim in your closet? I do! Turns out this slip of a dress is a great layering piece for fall & winter. Paired with a fitted sweater, this slip dress becomes a classic pencil skirt.
Outdated slipdress

New life as a skirt, worn under a fitted sweater
These Boots are Made for Walking
My winter wardrobe revolves around boots. Tall boots, short boots, stiletto, low heel, wedge heel – a great pair of boots will last several seasons so I tend to only replace one pair each year and still have a couple (or more pairs) still in good shape from previous years. I recommend 2 pair of boots MINIMUM for your winter wardrobe, then you can alternate days between boots and keep your outfits fresh (plus your boots have a full day to "air out" to avoid stinky boots).
Invest in good boots that will still be in style 2 or more years from now, and not falling apart after one winter. High quality leather, well constructed boots are a thing of beauty. They will cost more than poor quality counterparts, but it is worth the comfort of your feet to buy the right boots.
For that same reason, I avoid any styles that are too trendy or a "fad" that I will not want to wear more than one winter. Uncomfortable boots that pinch your toes, cut off the circulation to your calves, or in any way do not fit should not go home with you. No matter how cute, if the boot will cause you pain, do not buy it!
Boots should fit your lifestyle and climate. A good pair of snow boots are a must have for certain areas.
Accessories
Hats, scarves, and gloves are your cold weather BFF! There are such cute matching combinations, but I love finding the matching hat to coordinate with my coat. Accessories are another way to display your bright, funky, or wild side, while staying warm.
Accent Colors
I tend to gravitate to reds, jewel tones, and bold, rich colors. Embracing a couple accent colors seems like it would limit your choices, but it does open more options for mix and match combinations.
Put it All Together
Now that you have your core pieces and separated out your fall/winter clothes, start experimenting with different outfit combinations.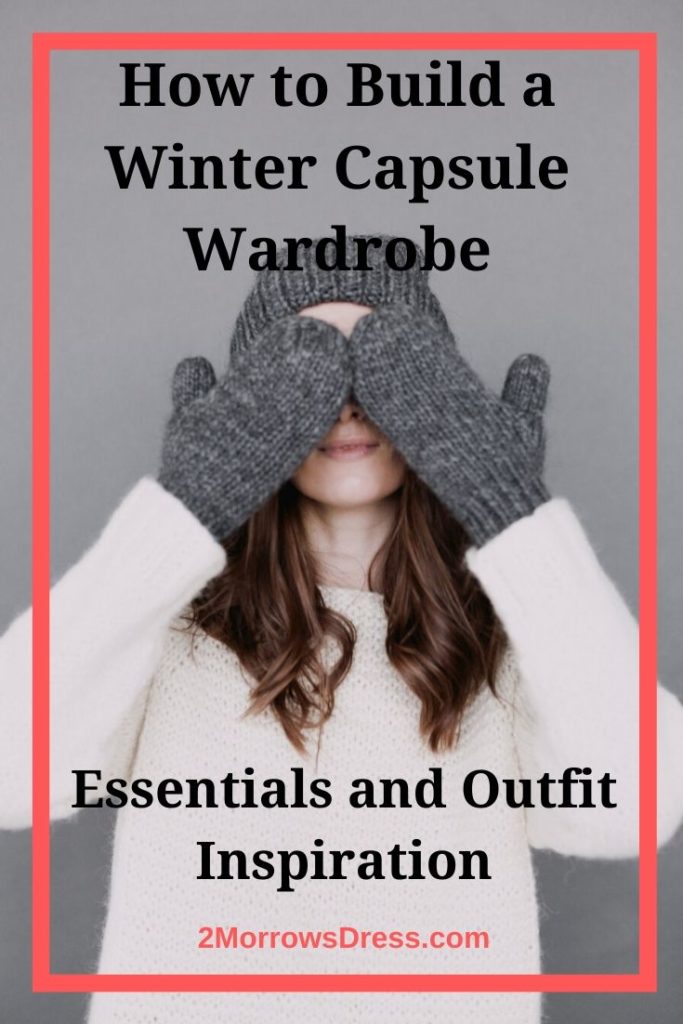 The key to a great winter capsule wardrobe is versatility, so you can wear the same clothes on repeat without getting bored. Invest in the classic, core pieces that you will wear season after season. Mix in a few statement pieces, for bold patterns and latest trends. Remember there is no right number of items or a set list for your capsule wardrobe, build a solid capsule wardrobe of great clothes to wear on repeat to fit your style (and budget).