I just booked our Winter Holiday Cruise! There are 2 formal attire evenings, and 5 smart casual evening meals.
Smart Casual
First of all, I love the "smart casual" name, it is a fun way to say cocktail or semi-formal. Depending on the cruise line, many passengers will wear slacks, cocktail dress, skirt with blouse, nice beach maxi dress, or sundress.
Most cruise lines will enforce a no shorts, no flip flops policy in the traditional dining room, so double check before you pack. Many cruise lines offer a "free-style" dining that is actually several restaurants within the ship that range from casual burgers & hot dogs, to semi-formal and formal dining. 
If you want to avoid a formal night you certainly can, but why would you want to?
Formal Attire
Formal attire is pretty clear. Ladies wear a full length gown, dress, or long skirt (or perhaps a very nice pair of trousers) with blouse.
The cruise is several months away, so I do not have to decide on my exact wardrobe, but I will start dreaming, er thinking about it. 
Packing for Multiple Formal Nights
No matter how active I plan to be on the cruise ship, the food is just too good to pass up anything.  This is very important to remember when shopping and packing.  My form fitting knock-out dress is worn the first formal evening, and I will bring one or two formal dresses that have a little more room for a little weight gain, for later in the cruise depending on length of sailing).
Empire waist loose fit chiffon is perfect for a Goddess look, and hide the 7 course meals from the last few days. This flowy drape gown is another great way to camouflage any fluctuations in my weight.
Wraps and Accessories
I tend to get cold anyway, so a matching wrap or dress jacket will be essential for my evening meals, formal or smart dress!
Keep in mind the season and check the typical weather before you shop & double-check before packing. There will be many temptations for a gorgeous gown that is too light-weight and not warm enough.
Best Time to Shop
Early summer is a great time to start shopping for formal gowns.  There are many dresses overstocked from Prom and some matching jackets may be on clearances, too.  For a good price, I will "stock" up, even if I do not wear the dress on my cruise, there is still Christmas and New Years Eve parties!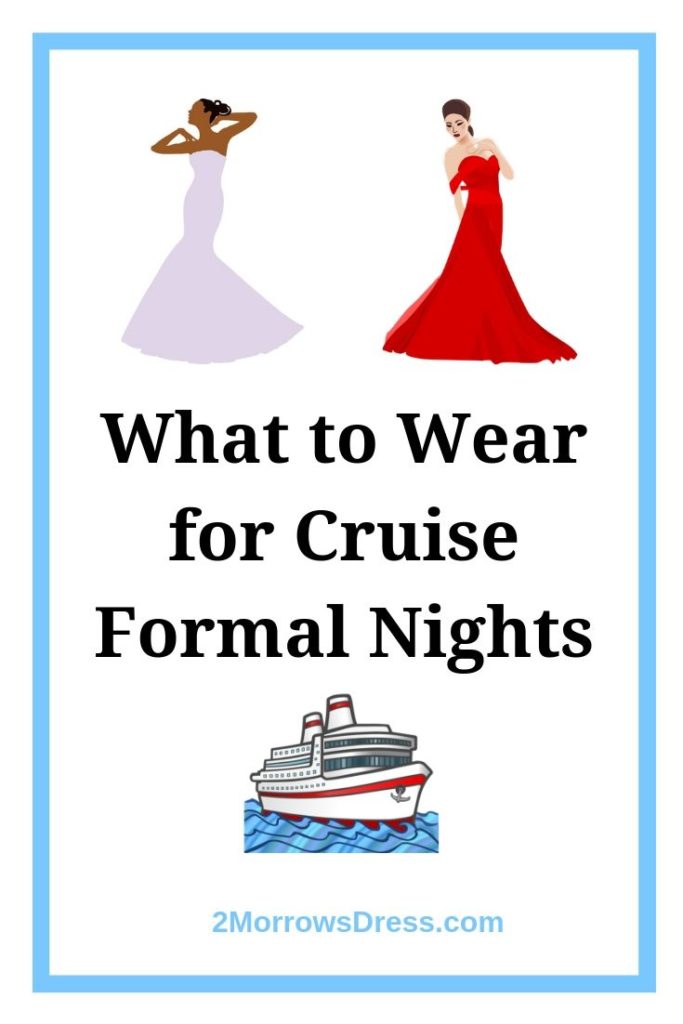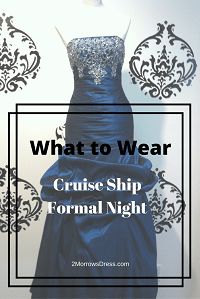 If you cannot find any decent dresses on sale, then mark your calendars, the fall/winter styles will start to arrive in August and September.