The last couple years, I have attended several Funeral Services.  Death is a natural part of life, and there are some basic courtesies to consider for what to wear at the funeral or memorial service.
Here is a short list to help you decide on a respectful and appropriate outfit.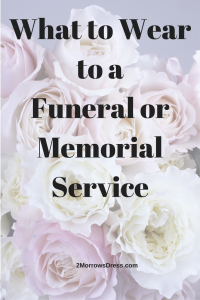 Do wear dark colors; black, charcoal, and navy blue are respectful colors to demonstrate mourning.
Don't wear an outfit that will be distracting. Bright colors, bold prints, or sexy clothes that are attention seeking are disrespectful for the family and friends attending.
Do wear comfortable clothing.  You may be standing, hugging, crying, and out of your normal element.
Don't wear tight, short, or restrictive clothing. 
Do wear practical shoes. You may be walking in the grass for a graveside service, walking or standing in a funeral procession, or standing during toasts.  Wear shoes that you can walk or stand comfortably, and that match the overall tone of the service.
Don't wear accessories that will be a distraction to you or others.  Avoid heels if you will be outside so you do not sink into the grave site.  Ensure that you can walk quietly and move without everyone hearing your accessories.
Do remember this service is for family and friends to grieve for a loved one.
Don't make this about YOU!
Funeral Basics:
Celebration of Life: Event that focuses on the positive impact the person had in life.  Many people may tell stories and share photos of the deceased.
Graveside Funeral:  Service held outside to watch the casket lowered into the ground.  There is usually a short speech, or eulogy, at the beginning.  Expect to stand, as only close family may be the only ones with chairs to sit.
Open Casket versus Closed Casket:  Determines if the deceased be visible or not laying in the casket.
Memorial Service:  An event where one or more people speak about the deceased, often after cremation.  May be a separate or combined event of the funeral.
Viewing:  An event held over several hours for family and friends to quietly pay respects to the deceased and family.  Usually held in a funeral home, may be open or closed casket, prior to the burial or memorial service.  There may be standing and walking around, quietly speaking in small groups.  The viewing will not include speeches or extended sitting.
Wake:  Traditional Irish memorial service, usually involves drinking and toasting to the deceased.