Brides, here are a few tips to help your Bridesmaid(s) save money on her outfit: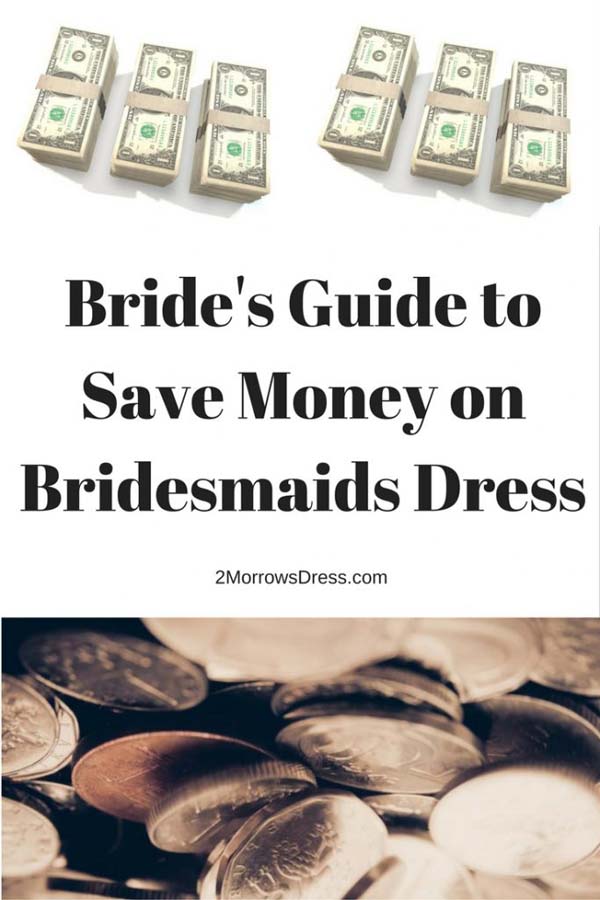 Avoid dresses that require expensive alterations.  Long dresses almost always need a hem, multiple layers and large skirts cost more to hem than single layer sheath or column dresses.
Go Short!  Short dresses tend to be less expensive, require fewer alterations, and more likely that the Bridesmaid may be able to re-purpose or wear it again!
Pick a color and hem length and let your Bridesmaid pick a unique flattering dress.
Mismatched Dresses!  Pick a hem length and color scheme and avoid the matching dresses.  Similar hem length (above the knee, at knee, below the knee) creates a uniform look for Bridesmaids dresses.
Separates – Select a couple different skirts and tops for each of your Bridesmaids to choose from in your selected color(s).  Each Bridesmaid can choose the skirt and top combination that looks best on their body type, for usually less than a dress!
When buying your Wedding Dress, ask if they offer a discount for your Bridesmaid to purchase from the same store.
Check out overstock and used options from sites like Wedding-Recycle.com (Great option for one Bridesmaid, or mismatched dresses)
Consider Dress Rental from sites like Rent the Runway
Let the Bridesmaid wear shoes she already owns.  Common colors like black, neutral (nude), silver, or white may already be hiding in your Bridesmaid's closet.
Looking for more ways to save money on your wedding? Check out these Wedding Money Saving tips.