Do you know the difference between decorative pockets and real pockets that are sewn shut?
I LOVE POCKETS!! I deliberately look for clothes with pockets. And, if you are like me, you know how rare pockets are in women's clothing! The industry is starting to notice, that we ladies like to have pockets in our clothing. And very observant designers/manufacturers are noticing that we like pockets that are larger than a a lipstick even more.
And then there are some really crummy designers that think we like the "look" of pockets on our clothes, but do not actually want real, useful pockets.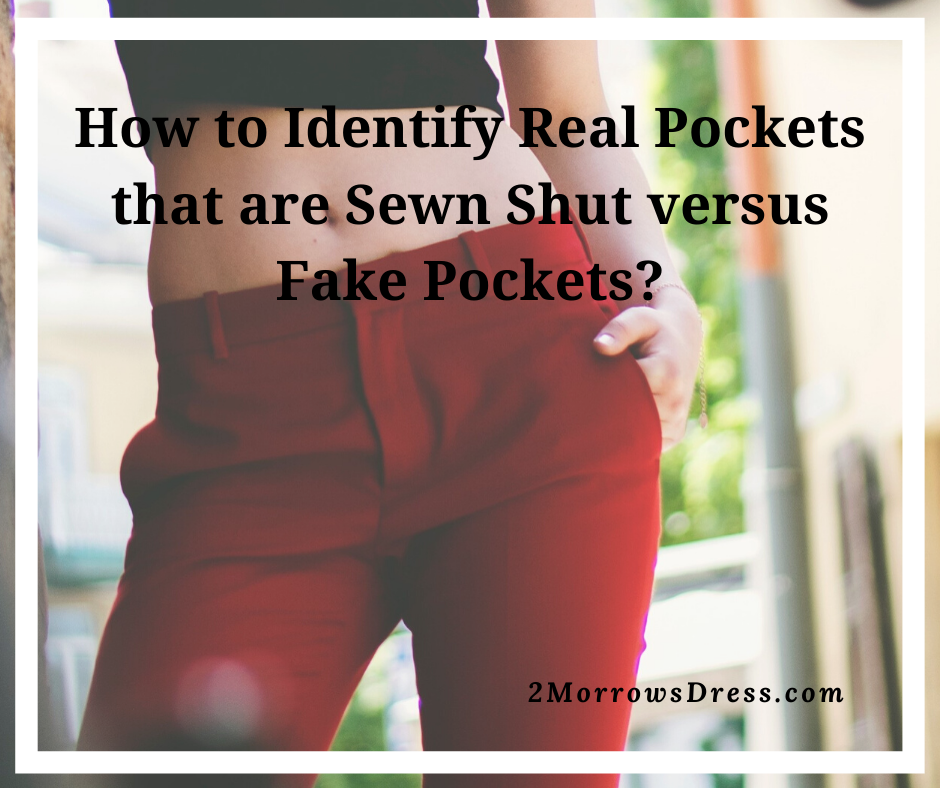 Enter the fake pocket, or faux pocket! It is usually a decorative flap sewn shut. When you turn the garment over, you will see that there is no connecting "pouch" for an actual pocket. These drive me crazy!!
Here is how you identify real pockets, that may be sewn shut by the manufacturer before shipping versus fake pockets!
Why are the Pockets Sewn Shut?
Many high quality garments leave the manufacturer with the pockets stitched closed to prevent the garment looking worn, prior to puchase in the store. Stitched pockets maintain shape better and are less likely to be damaged in the fitting room. Some people will chose to leave the pocket stitched to maintain the lines of the garment. If the garment is tight or the pockets are in a place that you will not use, then go ahead and leave them sewn shut.
I actually look for sewn pockets when shopping, that is another indication of well-made, higher quality clothing.
Is this a Real Pocket or Fake Pocket?
An easy way to determine decorative or real is to look for the pocket lining. Turn the garment inside out and look for the pocket lining, as seen on this skirt by Ann Taylor. A decorative (or fake) pocket will only have a small bit of fabric on the inside. Our example skirt clearly has lined pockets, shown inside out.
It may be more difficult to find the pocket lining, or not, if the overall garment is lined. Typically, if the garment is lined, there is usually a real pocket hiding, if there is any indication of a pocket. But there is no worse feeling of clothing betrayal, than getting home with your beautiful, new, expensive lined dress, and NO POCKETS!!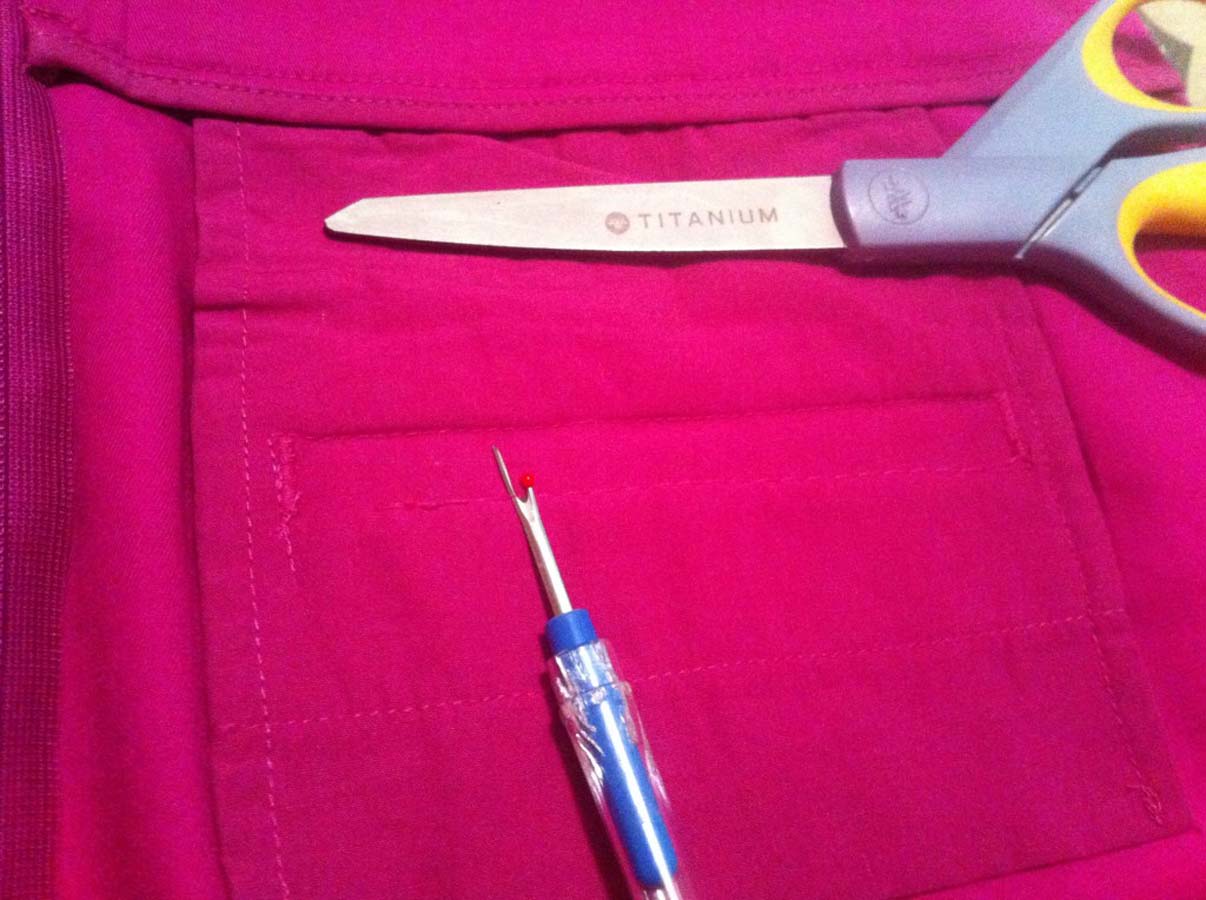 How to Open Sewn Pockets?
The pockets are sewn with a loose stitch that is noticeably longer/wider than the other stitching around the pocket. Sharp pointed scissors or a seam ripper should be used on the inside of the garment to remove the stitches.
Trying to pull the pockets open without the use of a seam ripper (blue thing above) or a pair of sharp scissors, can rip the pocket flap leaving a hole or other weird pulling on the fabric.
Gently pull any loose thread from the pocket area. Do not yank or tug on the loose thread! There may be another knot in the thread holding the pockets together that needs to be snipped.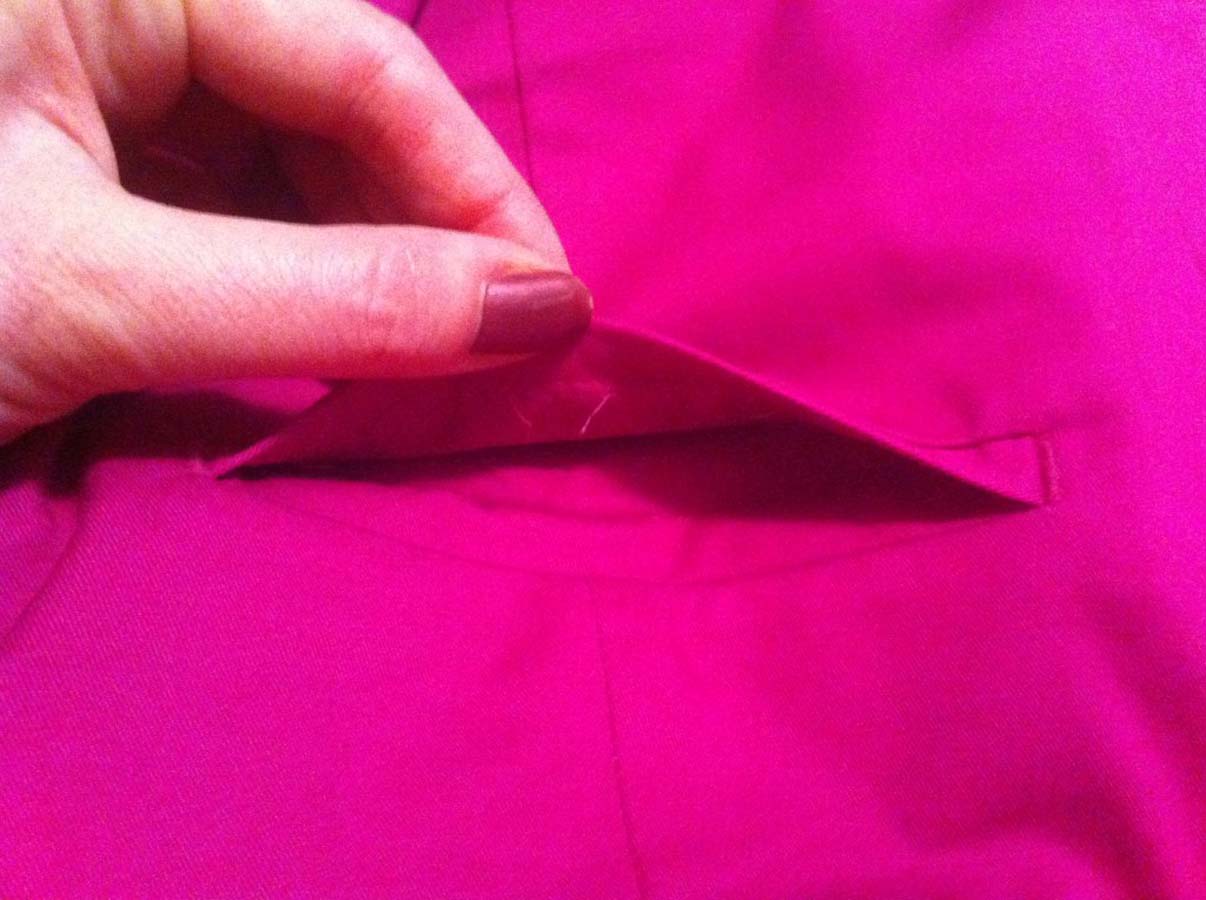 Enjoy your pockets!