Living in Arizona, we learn all the tricks to stay cool in summer; drink plenty of water, wear sunblock, hats & parasols are lifesavers, avoid heat absorbing dark colors, and most of all wear natural fibers!
Finding natural fiber clothing is easier said than done. Get into the habit of checking every fabric label, and looking at fabric contents when shopping online, every time you are shopping for summer clothes.
Here is a breakdown of what to look for, and why it matters so that you can stay cool, while looking stylish, in your natural fiber clothing!
What are Natural Fibers?
Light weight cotton, linen, and silk outfits are your best friend in the summer heat. 100% natural fibers are the coolest option. Double check the fabric content labels when shopping for better options in your closet. High natural fiber content blends are still a good option. Cotton and cotton blends are great options and usually lower priced than linen or silk. Linen has a bad habit of wrinkling, so you may end up constantly ironing unless you embrace the natural "texture" (nice way to say slightly wrinkled) look of linen pants.
When to Select Synthetic Materials?
Unless the garment is specifically formulated as a "dry-fit" or wicking fabric, synthetic fabrics do not allow airflow and retain the heat against your skin. Even wearing a natural fiber layer is rendered almost useless when paired with synthetic. Not all synthetic fabrics are created equal! Some synthetic garments are specifically designed to retain heat and keep you warm, double check the label rating and usage to ensure that you are getting the warm weather gear to stay cool!
Details in the Lining
The lining of skirts and dresses are often the reason you are a big, sweaty mess!
Label Cotton Dress with polyester lining

Linen dress with Cotton lining
Take a look at the two labels above. Both labels are from natural fiber summer dresses. The label on the left is a dress made with 96% polyester lining and it will definitely feel much warmer than the dress on the right with 100% cotton lining. The polyester lining will not allow airflow, amplifying the heat against your skin, and anything above 80 degrees is going to feel incredibly uncomfortable! Whereas the cotton lining is going to allow airflow and heat will naturally dissipate through the fabric. I would rather not have a lining than have a polyester (synthetic) lining for any summer outfit.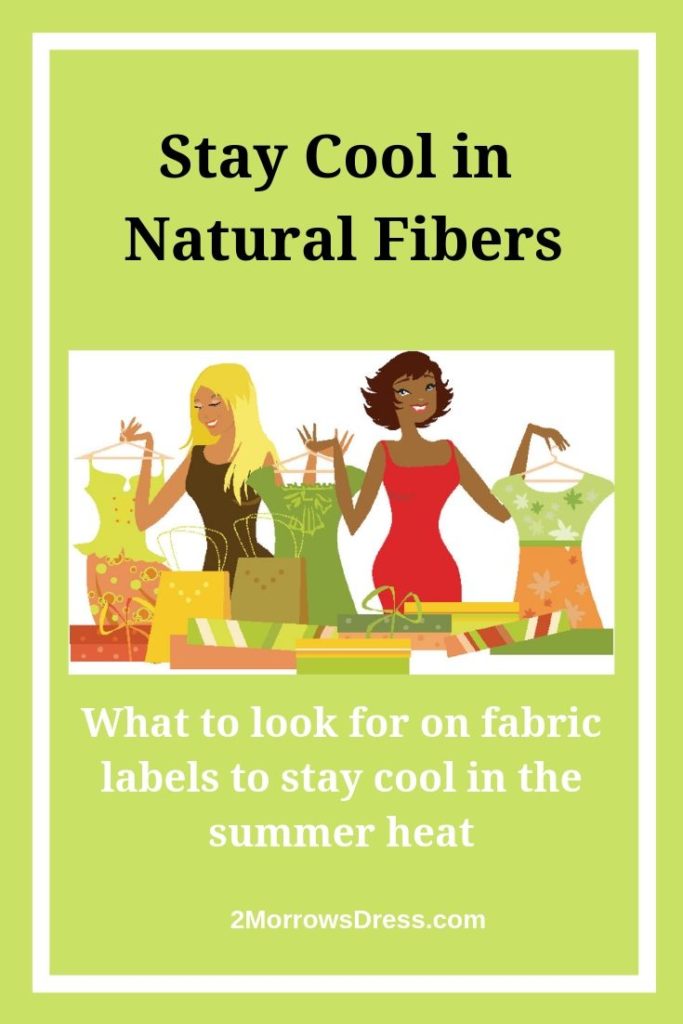 Stay cool, comfortable, and stylish this summer in your natural fiber clothes!