Shopping for a Prom dress can be exciting, frustrating, scary, and for many girls – depressing. Here are a few tips to help have a fun and easy shopping adventure for your perfect outfit.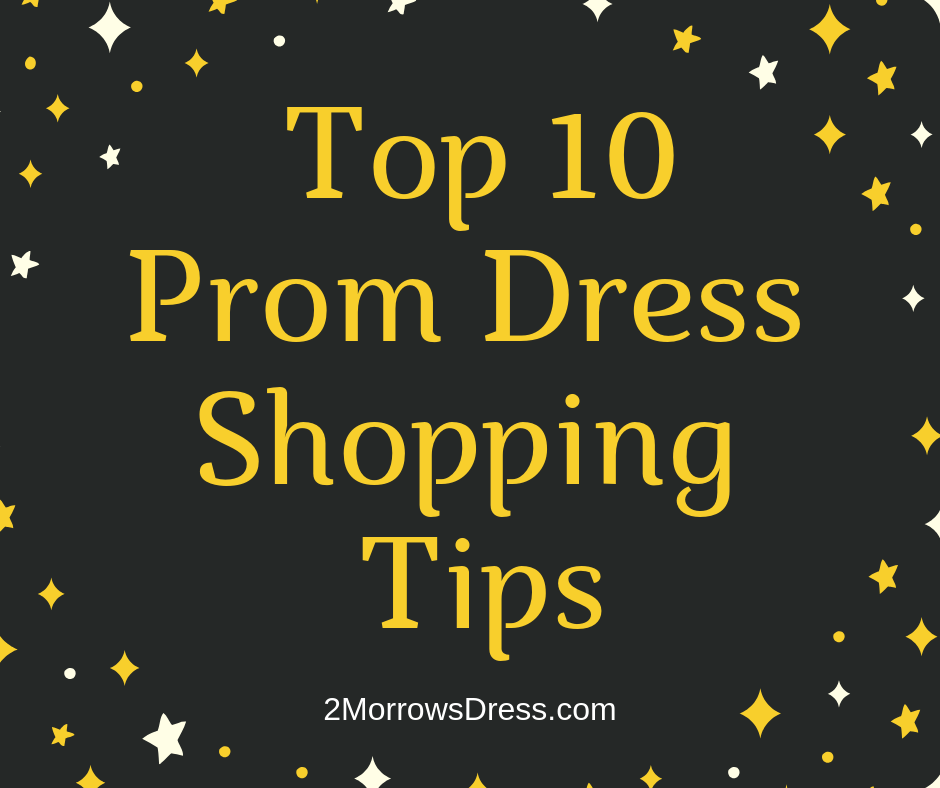 For widest selection of dresses, sizes, and colors, shop before the weekend.  Most stores restock during the week and the store may sell out of your size/color/style on Saturday and Sunday.  If you find a great little boutique, be sure to ask them when they are getting more dresses and if they will tell you any details about the order.  There also may be new markdowns on dresses that are already in store when the "new" batch of dresses arrive.
Know your budget.  Give the sales girl a range of what you want to spend, but know what your absolute maximum (including tax) amount is.  No dress will ever compare to the gorgeous twice-your-budget dress that you know you cannot afford – so do not try it on.  It will only make finding YOUR dress that much harder.
During the week the stores are less crowded and the sales staff can provide extra attention.  Be sure to tell them what kind of dress and color preference you are looking for, then they can save you time by pulling the best matches in the store.
Know the difference between Junior and Misses sizes.  What sizing is the dress?  Is this the correct fit for you?  Sales staff should be able to help you determine your size and what dresses will fit you.  Remember, dress sizes are not standard, meaning that one dress may fit perfectly and the same size dress of another brand could be too big or small.
Try on different styles.  Try on short dresses, long gowns, solid and print patterns, single strap, halter, and others to find out what looks great on you. Let the sales staff pick a few dresses for you.  You might find a dress that you love, one that you would not select for yourself.  Be adventurous, but remember that you you need to be able to sit and breathe in your entire outfit.
Try on the entire outfit as you would wear it.  Do not just slip the dress on over your jeans or shorts!  Putting on a dress or outfit over your clothes will cause your butt to look lumpy, tops to be too tight, and result in distractions.  Make sure the dress will zip up, and it is an overall good fit.
The big-box stores like Dillard's and Macy's stock the same dresses in all of their stores.  If you find one that you like but it is not the right color, size, etc, then ask the store to call around at another location to find the one you want.  You may even be able to go on their website and order the exact color & style – just be sure that you have already tried it on or something similar to avoid a last minute dress emergency!
Since the big-box store carry so many of the dresses this can lead to many other girls wearing the same style dress as you.  Many specialty boutiques offer a dress registry, where they track what dress style and color were purchased for your school.
Bring a few different bras with you to try on dresses.  A strapless bra can make a huge difference for fit and comfort.  They are often different levels of padding so be sure to try on your dress with the bra that you plan to wear.  A strapless bra with clear straps provides great support and can be worn with a variety of dress styles.
Bring at least one pair of dress shoes with you.  A pair of flats or low heels, medium heels, and high heels will help to complete the look.  Even if these are not the exact shoes that you will wear, the heel height can help determine if you will need a hem or the dress is too short.
Bonus Tip
Have fun, relax, and be bold!